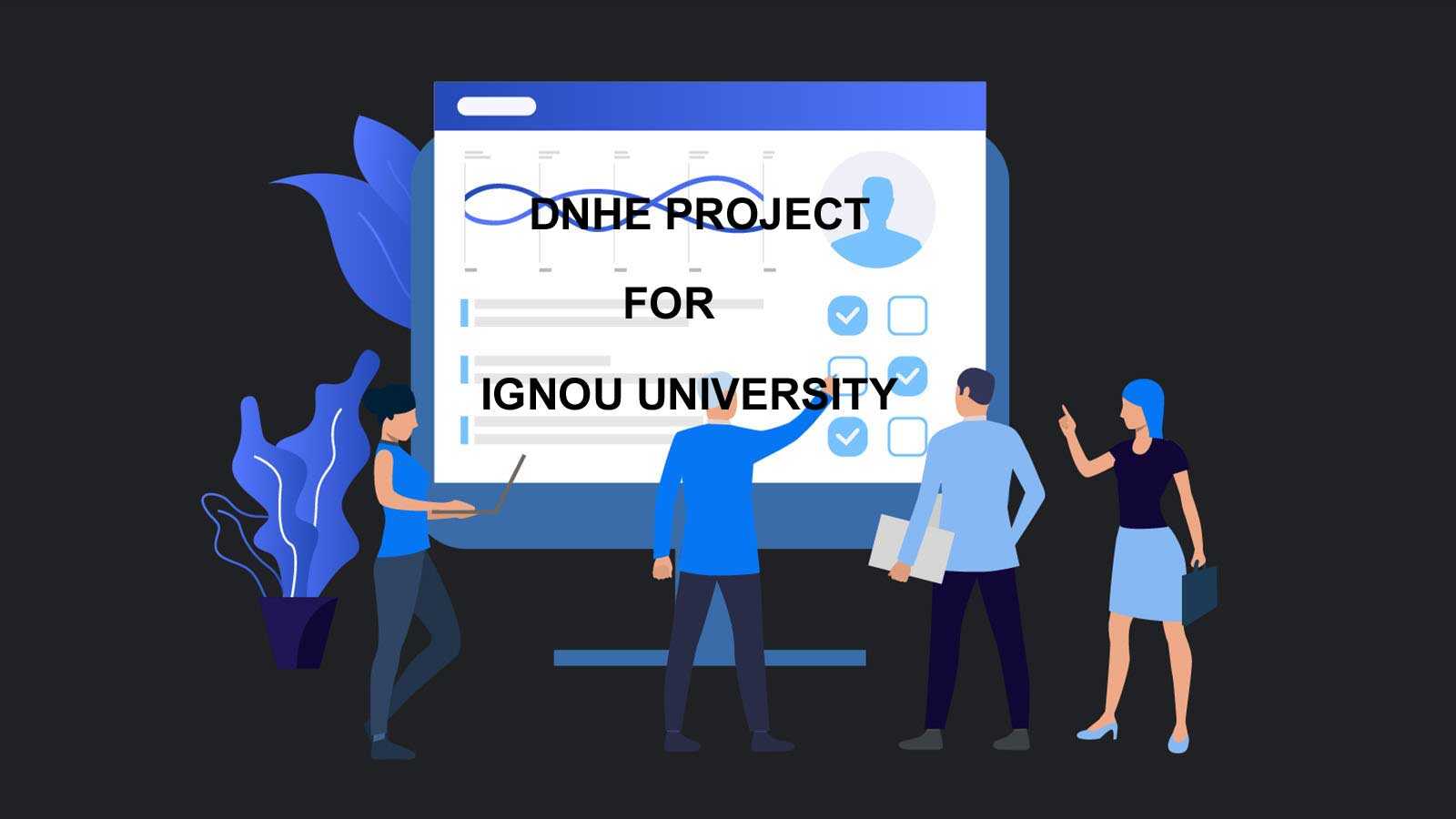 Diploma in Nutrition and Health Education is also called DNHE. It is a short term diploma course. In this course, students learn about public health and nutrition. This course is for 12th passed students who want to make their career in nutrition science and public health practices. For the final years students who are pursuing the DNHE course, Ignou DNHE Project is compulsory to submit all students.
| | |
| --- | --- |
| Course Type | Diploma |
| Eligibility | 12th pass |
| Min. Duration | 1 year |
| Max. Duration | 4 year |
| Fees | 2,000 |
| Package | 2.5 lakh to 5 lakh |
There are total four subjects and each subject has equal credit in DNHE course that is mention in given below table:
| | | |
| --- | --- | --- |
| Course Code | Name of the Course | Credits |
| DNHE-01 | Nutrition for the community | 8 credit |
| DNHE-02 | Public Health And Hygiene | 8 credit |
| DNHE-03 | Nutrition in Health Education | 8 credit |
| DNHE-04 | Project work | 8 credit |
The main goal of the DNHE course is to gain the knowledge base in nutrition and public health increase awareness regarding concept and principle in communication and it's application in health education and nutrition. And playing the role of nutrition and health educators in their area.
Why Project is Important
For every student who is pursuing the DNHE course, the ignou DNHE project is very important. Because during the making of ignou DNHE project, students gain practical knowledge about their subject. During the time of projects, students do brainstorming and sharing different types of ideas and their knowledge.
Students of DNHE program work on different things and solve the problem of peoples regarding nutrition and health. They meet many types of peoples and solve their queries. In IGNOU Nutrition and Health Education Project, students not doing theory but practical also.
Projects do not only increase the theoretical knowledge but also increase their problem solving skills and also increase the critical thinking and time management. With the help of their project, they get job very easily.
The Project increases the self-confidence of students when they present their project at external they increase confidence.
Where to buy Ignou Nutrition and Health Project
It's very difficult for students to make their Ignou DNHE Project. Because ignou university provides a correspondence course only. In correspondence university students attends few classes that's why they have not a proper knowledge of their subject. And students not getting good marks in their project. We are the Ignou project firm that helps the Ignou learners to complete their Ignou dissertation.
Our team has more than 40 plus members. Our writing expert team written more than 10 thousand projects for Ignou students. Our team has more than 10 plus years of experience in this field. Mail us at ignoubestprojects@gmail.com and contact us on 9354111537.
Frequent Question Asked By Students Regarding Ignou Project
Q – How to Download the Appendix and where to take signature of supervisor?
A – Please click on the link to download it. DNHE Project Guidelines
Q – Where can I find the DNHE project Guidelines?
A – Click on the 1 questions answer  link.
Q – Where and how to Send the Synopsis and Report of DNHE Project
A – You have to hard bind it and speed post to below is the Following
Address
DISCIPLINE OF NUTRITIONAL SCIENCES SCHOOL OF CONTINUING EDUCATION IGNOU COMPLEX, MAID AN GARHI, NEW        DELHI-110 068